There are many tourist attractions in Porto with some turning livelier at night. These include the bars, night clubs, and theatres and so on. We will take a deeper look and see what the city of Porto has in store for you as far as nightlife is concerned.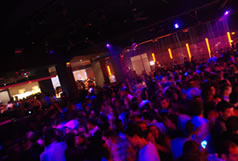 The Trintaeum Cafe Bar and club is one particular hotspot at night found in the Foz district just next to the Duoro River mouth. The excellent DJs here will make your night out worthwhile together with the friendly atmosphere and spacious dancehall. From the Bazaar, Cais das Pedras over the river, one is treated to some wonderful views. Here, culture and leisure are blended so well with a cafeteria and fashion stores during the day and a bar at night. The Cafe Guarany is also another option. This restaurant has a good atmosphere for enjoying one or two drinks as you unwind.
Pitch club is found on the Rua de Passos Manuel 34-38. It is a two-floor club playing some great music that will keep you busy throughout the whole night. For those who love arts and exhibitions, Plano B on the Ruo Candido Reis is a good option for the night. Others include the Vogue on Avenida Fontes Pereira de Melo 481; the Twins's on Rua do Passeio Alegre 1000 for the 80s rhythms, the Swing club on Rua de Julio Dinis 766 and the Act on Rua Manuel Pinto de Azevedo 15.
Some people prefer the live music night-outs and Porto city offers many options for you to choose from. First is the Hot Five Jazz & Blues Club on 51 Largo do Actor Dias for great jazz and blues music just as the name suggests. Ser'artes Cafe Concerto also offers great jazz concerts. It is found on Rua da Constituicao 2105. Other great live music joints for the night are Cafe Majestic on Rua Santa Catarina 112 for traditional jazz, Restaurante Mal Cozinhada for live frado and Casa da Musica.
Porto's nightlife also encompasses music and theatre performances. The Casa da Musica has been a popular joint for such as from 2005. Equipped with a nice concert hall, 3 bars and two restaurants, watching the Orquestra Nacional do Porto will surely unwind your evening. The other theatre is the Coliseu do Porto for productions in cultural theatre and opera. One can also opt for the Batalha that has a rich history dating back to 1798, Rivoli Teatro Municipal, Treatro Campo Alegre, Teatro Carlos Alberto and Praca D. Joao.
Finally, a look at the cinema life at night in Porto reveals the following joints: do Porto for contemporary modern movies and Cinema Batalha for watching any type of movie. This cinema is also equipped with a bar and a restaurant. Other cinema halls include the Cineclube do PortolClube Portugues de Cinematografia which is a popular joint for film buffs in Porto. Apart from movies, workshop programmes and lectures and a variety of related events usually take place in these theatres.