Porto is renowned world city and the second largest in Portugal.  It is highly populated city, making it the heartbeat of this country. In one way of another, Portugal depends on this city for social-economical as well as political supremacy. In 1996, Porto was recognized by UNESCO as a world heritage site due to the many tourist attractions ranging from museums, rivers, heritage palaces, cultural centers, Arab room among others. This has so far led to the rise of 5 star hotels in Porto to cater for the needs of local as well as international tourists. Here is the list of best 5 star hotels in porto:
HF Ipanema Park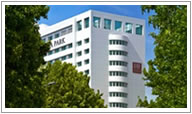 This is 5 star hotel located on Rua De Serralves, 124, 4150-702 Porto. It has 281 rooms and suites that are spacious enough and include cable TV, 24 hour room service, and a minibar. Some of the rooms have Wi-Fi internet which makes surfing possible. There is a Jardim d'Inverno restaurant where gourmet menu is served. Delices jucie from the entsafter bar. The menu includes local as and international cuisines. In the Twin Tree snack bar, you can eat as well as take a drink at the rooftop bar or at the pool side. There is outdoor and indoor swimming pool, a health club that has a racquetball court and gym, beauty treatments and massage are also available. While in the rooftop bar, you can have panoramic views of the Douro River and the entire city. Two nights in a basic double or twin room cost €130 with buffet breakfast.
Hotel Infante De Sagres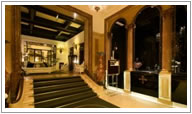 Hotel Infante De Sagres is a 5 star hotel in Porto. It has 73 rooms that are soundproofed. The rooms also combine neo baroque as well as custom made furnishing giving it a unique blend. The flat satellite TV screens are accompanied with antique chandeliers as well as air condition. You can enjoy Douro and Porto wine and fine dining from the Boca do Lobo Restaurant.  Fusions of contemporary dishes that include local fresh ingredients are prepared courtesy of award winning chefs. Located in the UNESCO area of Porto, it is 10 minutes walk from the cathedral and 10 minute drive from the famous Casa da Musica hall. A single room in a superior twin room will cost you €139 inclusive of buffet breakfast.
Tiara Park Atlantic Porto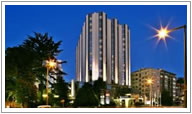 € 190 is the amount that you will pay for staying in an executive room or two nights in tiara park Atlantic Porto. This is indeed a 5 star hotel in this city due to their unique and excellent services. This hotel is located on Avenida da Boavista hotel which is a new business district. If you need pure luxury and comfort, you need to visit this hotel. The 232 rooms are spacious and comfy. You can have city views from these rooms. Private and public spaces are superbly furnished and radiate a cozy and warm atmosphere. There are delicious delicacies in the restaurant and you can also take a walk in the hotel garden.
Porto Palacio Congress Hotel & Spa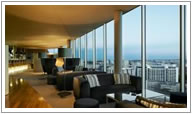 Porto palacio congress hotel & spa is located on Av. da Boavista 1269, Boavista, 4100-130 Porto. It features some of the best services in the hotel industry ranging from a luxurious spa, sauna and massage and swimming facilities. There a racquetball court, a gym as well as a Jacuzzi. The 251 rooms are spacious and soundproofed. There is a wall mounted Flat LCD TV in each room and air conditioning. There are marble private bathrooms which offer underground heating. In the Madruga restaurant you will be served with American buffet breakfast while the Grappa By Chakall offers local and Mediterranean cuisines. There is live music in the Nautilus lobby bar.  Two nights in a special romantic executive room will cost you €460 inclusive of buffet breakfast.
Sheraton Porto Hotel And Spa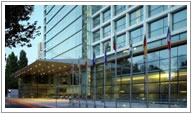 Sheraton Porto hotel and spa is a 5 star hotel in Porto centrally located. It is only 2 minutes walk from the Estadio do Bessa. There are 266 elegantly furnished rooms that feature a computer area, indoor swimming pool, spa and gym.  The rooms are spacious, comfy and decorated with a jumble of wood, glass elements and steel. They have air conditioning, sitting area and flat screen TVs. The spa provides various body and facial treatments based on European philosophies and oriental traditions. There is a sauna and a Jacuzzi. You can enjoy local and international cuisines from this hotel's restaurant. Two nights in a deluxe single room will cost €300.